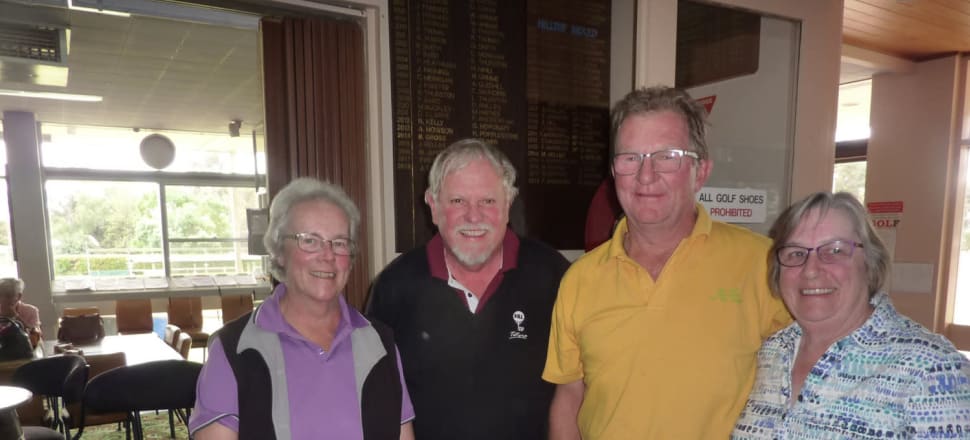 5370537724001
Saturday's weather was spring-like with showers, strong winds and, occasionally, sunshine.
James Ibbotson handled the tricky conditions best, winning B-grade and the Peppermill Privilege Cup with 38 Stableford points.
He wiped on the ninth hole and turned with just 15 points but a four-over back nine for 23 points was enough to win him the cherished mug.
As James is unlikely to be able to make good use of the mug, there were plenty of offers to take over the privilege for the month — but rules are rules.
Col Barlow won A-grade with 37 points after an action-packed day, Bryan Miller was runner-up with 36 on count-back and Dale McNair was runner-up in B-grade with 37 points.
Brian Meneilly won NTP on the third hole (Lewis Homes sponsor), Dave Roberts won on the sixth (Tatura Post Office), Allen Gale won on the 14th (A-1 Freight) and Col Barlow completed a good double by winning the jackpot and NTP on the ninth (Tatura Engineering).
Line-balls: Jeff Huddle and Steve Zolich 36, Brian Meneilly 35, Michael Downs, Scott Perry and Peter Baird 34, Scott Carter 33, Garry Reese and Anthony Devine 32 on count-back.
On Sunday, Col Barlow was the sponsor of the four-person Ambrose competition which attracted 60 golfers who enjoyed far more pleasant conditions than those who played the day before.
Often Ambrose events are won by men who usually do longer drives to put themselves in a better position to score birdies — but on this occasion the group comprising Dave and Bev Roberts, and Bill and Judy Ashcroft won the day with a nett score of 56.125.
On the front nine they were level with par but, on the back nine, they had birdies on the 11th and 13th, and on the 17th Bev and Dave Roberts combined to score and eagle two.
Peter Caldow, Dave Cornwall, Gary Hopcraft and Bryan Miller were runners-up, just 0.25 behind the winners, while Adrian Gleeson, Heather Long, Debbie Reilly and Fred Andrews were third with 56.875.
Line-balls went to scores of 57.125 on count-back.
Heather Wildes won NTP on the third hole, Matt Miller won on the sixth, Jody Webber won on the 14th while Paul Cornelius won NTP and the jackpot on the ninth.
In midweek competition, Clive Merrigan won Tuesday's Stableford with 40 points and Bruce Gross was runner-up with 39 on a count-back.
Consolation balls went to Barry Dennis 39 and Frank Hill 34 points.
Thursday's event was won by Hamish Roberts with 39 Stableford points and Col Barlow was runner-up with 38 on a count-back.
Roberts scored twos and threes until he reached the eighth where he could score only one point and then on the 18th he had a miss.
A birdie for four points on the 11th brought him back into contention and his 22 points on the back nine was enough to get him over the line.
John Keller won NTP and line-balls went to Angie Serra 38, Michael Downs 37, Peter Hutton 36, Ray Flett and John Keller 35 on count-back.
Thursday's Mat Langley Twilight competition was won by Ryan Lindsay with a nett 28 and Tanz Dellar was runner-up with 29 on count-back.
Scott Carter won NTP on the ninth and line-balls went to Jan Coe 29, Paul Hughan 30, Tony Hicks 30.5, Matt Miller and John Mapson 31.5, Bryan Miller and Dylan Burls 33, Col Barlow 33.5, Brendan Ryan and Alex Howson 34, Les Walsh and Norm Elliott 34.5, Jono Kerrins, Barb Nation and Janette Hayward 35.
Coming events:
Hit-offs between 8am and 9am for midweek golfers begin on Tuesday, October 29, and on Saturday golfers play for the GMCU Monthly Medal.
There is a new event on Sunday with Shepparton Real Estate sponsoring a two-person medley Ambrose with a 10.30am assembly for a 11am hit-off.
You can read details and enter on the Hill Top website.
Shocker:
As well as sponsoring Sunday's event, Col Barlow featured prominently on the Saturday.
His tee-shot on the par-3 ninth hole left him just inches from the hole and near enough for a comfortable birdie, nearest-the-pin and the jackpot.
On the 15th hole, his drive left him about 150m from the hole and there are conflicting accounts of what then happened.
According to Col, his shot to the green floated up gracefully, landed like a butterfly with sore feet and trickled into the hole.
Other players in the group state that he skinnied the ball which headed for the green at pace, struck the pin and dropped into the hole for an eagle.
One player opined that, had the ball not struck the pin, windows may have been broken. Regardless, Col won A-grade with 37 points and had a great day.