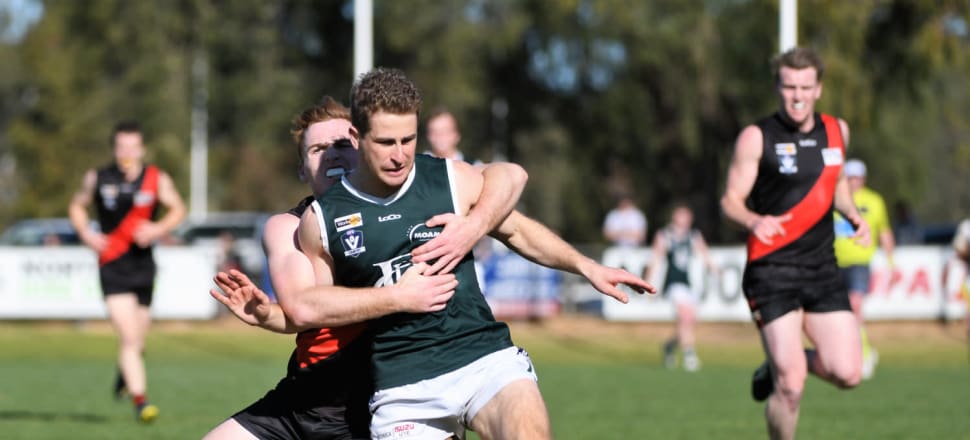 5370537724001
Echuca co-coach Simon Maddox is hopeful his side can take away plenty of belief from its 17-point defeat to Kyabram on Saturday.
The Murray Bombers' qualifying final loss at Rochester marks the closest Echuca has gotten within Kyabram from three attempts this season.
In fact, the 13.11 (89) to 10.12 (72) outcome is the closest any side has been within the powerhouse side this season.
But it was the fashion in which it responded and finished the game — after trailing by 38 points early in the third quarter — that Maddox hopes will boost his side's confidence.
"Hopefully we take some belief out of that," Maddox said.
"The response was good and our effort and energy was great.
"We've always believed we could match them, it's just being able to do it for four quarters.
"But full credit to Ky, they always responded to our challenges."
Maddox said the second term — where Kyabram kicked four goals and held Echuca goalless — was an area his side needed to improve.
"We just need to make sure we don't give them an easy run like the second quarter," he said.
"In the second term, even though they kicked four goals, they still had a lot of shots on goal.
"If we get another crack at them, hopefully we can be better for longer."
Leading the way for Echuca in the second-half fightback was inspirational playing co-coach Andrew Walker, talented big man Kane Morris and reliable defender Peter Faulks.
VFL-listed forward Angus Bryne provided a strong presence across the ground.
"There was a collective of guys that really stood up for us," Maddox said.
"Kane Morris had a real presence out on the ground, Andrew was good around the stoppages and Faulksy gave us drive off half-back.
"I thought Angus' physicality and intensity set the standard.
"Even though he didn't take big contested marks like he normally does, his tackles and bumps were important.''
If the two sides do meet again, Echuca may have NAB League player Jack Evans in the line-up, after the youngster's stellar effort in the under-18s.
Evans kicked six goals in the last quarter of the match against Seymour to single-handedly win the match for his side.
Maddox said the youngster came close to adding to his senior game tally against Kyabram.
"Jack was very close to playing (today)," he said.
"We know he's a great talent and what he can bring to the table.
"He'll definitely be up for consideration next week."
In the medical department, Cam Valentine was a late withdrawal, but should be right to go next weekend, while Luke McKenna copped a knock to his leg.