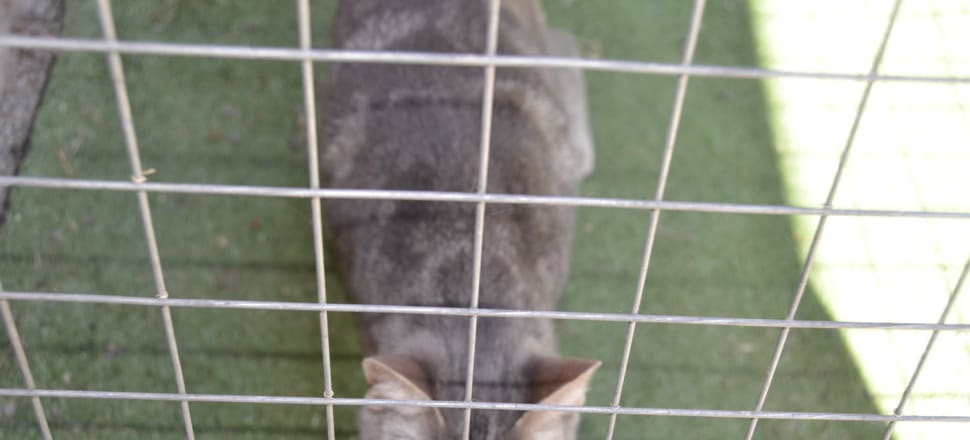 5370537724001
Last Christmas morning Tatura's Olivia and Jack Curtis woke up to what is every child's dream, a kitten for Christmas.
Bella came waltzing into their lives and they've loved her ever since.
"She has a little stumpy tail that I like," Olivia, 5, says with a smile.
On this afternoon Bella is hiding under the bed. She's timid, and can detect that someone new is in the house.
Olivia tries to tempt her out with various toys like a vibrating mouse and a golden bauble from the Christmas tree.
"Please come out Bella, please, please, please," pleads Olivia.
Bella is mostly an inside cat and one of Olivia's favourite things to do is watch Bella hide under the bed.
"I like to hang my head off the bed and look at her scratch the mattress.
"Sometimes she tries to scratch the good couch but we have to say 'stop Bella.'"
The children like playing with her in the living room and play room.
"We roll baubles for her to chase, and she really loves pipe cleaners," Jack, 8, says.
"She puts them in weird places like underneath the couch."
Olivia excitedly talks about how Bella has been swiping at the baubles on the Christmas tree and even climbed into the branches to hide there.
Sometimes she escapes outside and Olivia says she often goes out behind the shed.
"This morning she got up on to the barbecue," Olivia says.
There is a designated play area for Bella outside, it's a cage with a slide and planks of wood for her to climb up.
"She's only one (year old) so we don't want her running outside or across the road," Kath Curtis, Olivia and Jack's mum, says.
Jack talks about how Bella occasionally jumps up on his bed
"She likes my blanket, but I don't know if she's allowed to come onto my bed, but it is my bed so sometimes she's allowed and sometimes she's not," he says.
Kath mentions Bella's stumpy tail and her origins from a farm out near Mooroopna.
"We though she lost her tail in an accident or something, she says.
"We've taken her to the vet, and they said that she was born like that and it won't affect her adversely in any way."
Kath says it was Bella's colour and little stumpy tail that made her choose the kitten for her children.
"She has a beautiful colour and her tail makes her lovely and unique," she said.
"Before we leave in the morning everyone gives her a cuddle goodbye and Bella is the first thing the kids run to when they get home from school."
My Pet Stories: