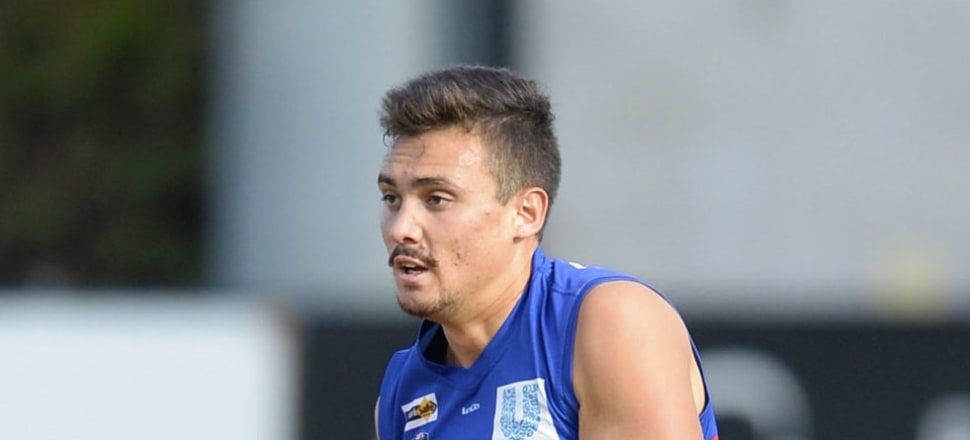 5370537724001
Consecutive statement wins have helped Tatura make third place in the Goulburn Valley League its own and remind the competition it intends to be a force this season.
A week on from a comprehensive showing against Mansfield, the Bulldogs had to fight to see off Benalla at the showgrounds on Saturday, but ground their way to a 15-point triumph.
They led at every change, but the game was still on the line with the Saints just 15 points down with a quarter to play.
Benalla, which played without injured Morrison medallist Will Martiniello, got five goals from Brody Webster, but could not find enough firepower up forward with Tatura generating 10 more scoring shots for the day.
For Tatura coach Jamason Daniels, he felt the win could have been far less stressful if his side had taken a plethora of chances in the first term, but he was certainly not complaining about the result — the first time his club had won at Benalla since 2010.
''It's been a long time, so it's great we could go over there and chalk up a win,'' Daniels said.
''We should have put them away in the first half, but we kicked pretty inaccurately, we kicked 5.5 in the first quarter, but at least three of those were pretty easy shots.
''We should have put them away, but to their credit, they came out and took it to us and fought back, and it was a tight contest. Our boys showed plenty of fight.''
Wasteful kicking continued in the second with Tatura finding 2.5 and it left the door ajar for the Saints, who produced a strong third term to give themselves a sniff.
For Daniels, steadying and hanging on to win was pleasing, and signified turning the corner for a miserable loss to Shepparton a fortnight back.
''Their midfield probably wrestled things their way in the third quarter, but ours stood up in the last, as did the backline, Linc Wellington was unbelievable in the last quarter chopping off everything,'' he said.
''It was just great to churn out a win after winning well last weekend, we didn't want to be an inconsistent side. Now when we look at that Shepparton game, hopefully we can say it was a one-off.''
The Bulldogs got three goals from James Sullivan and two from Nick Fothergill, but it was a hard-working show from midfield maestro Jason Tutt that shone brightest.
''Tutty played his best game for the year, he did plenty of really tough team acts, not just with the ball, but without it,'' Daniels said.
''His gut running up and down on a really wide ground set the tone, and he laid some crucial tackles in the last quarter, he was chasing guys down and putting his body on the line.
''(Sullivan) was instrumental in the first quarter getting us up and going with three goals. He's like a Jack Russell down there, he's an angry little ant who gets under opposition skin with huge pressure.''
Along with Webster for Benalla, youngster Pat Warner starred on the wing, Riley Moran also strong in the middle.
But coach James Martiniello was disappointed with his side's lack of precision with the football, conceding unusual turnovers had hurt in a big way.
''We didn't quite bring the game we wanted to in the first half,'' he said.
''There wasn't enough pressure around the contest, but the big killer was our turnovers, when we were attacking we turned it over too easily and they got us on the overlap. When you give a good midfield like Tatura has opportunities, they don't tend to give it back.
''I'd really like to play that contest again, it was perfect conditions and we work on our skills a lot, we have good skilful players. You only have to miss marginally and it slows you right down, and you have no time to set up defensively.''
Martiniello said brother Will was close to playing against the Bulldogs and should be right for Saturday against Mooroopna.