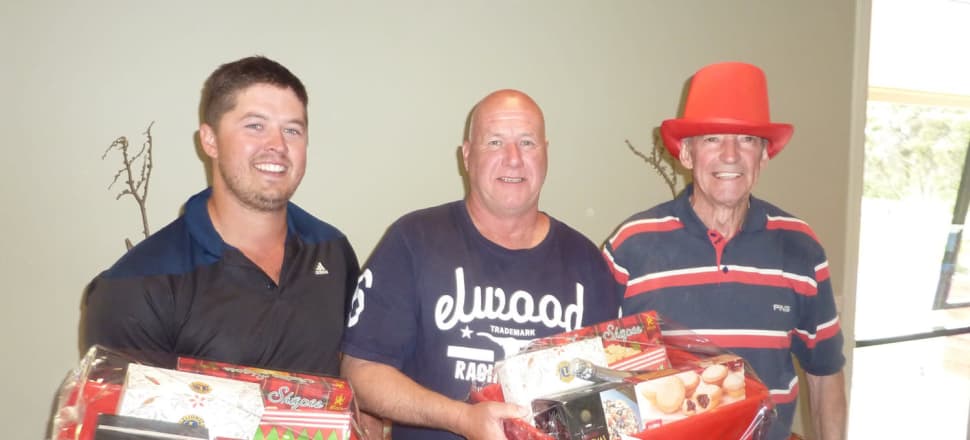 5370537724001
Rain played havoc with sport in Victoria last week and Hill Top had to cancel competitions on Thursday in the day event and also for the twilight event.
A determined group headed out on Saturday but even they had to admit defeat in the face of heavy rain once again.
There were good bookings for Hoppy's Split Sixers on Sunday but rain threatened to wipe that out also.
The decision to delay hit-off by an hour paid off and a field of 76 finally enjoyed a full round of golf.
Golfers were asked to dress for this Christmas-themed event and carts were decorated with tinsel, coloured balls and whatever seemed appropriate.
There were competitions to be nearest the reindeer and nearest the Santa and afterwards everyone enjoyed finger food on tables especially decorated by Les and Barbara Nation with place mats, serviettes rings and table ornaments all made from hessian, sticks, pine cones and other natural materials.
Gary Hopcraft plays ringmaster on these occasions, involving the crowd as they vote for best costume and presents the many trophies he and wife Helen provide on the day.
The fact that so many turned up to play on a day likely to be washed out once again speaks volumes for the regard golfers have for this event and the considerable work that goes into preparing for it and running it on the day.
The event is four-ball stableford with holes one to six played as regular best ball.
Holes seven to 12 are aggregate with stableford points combined, and the final six holes are the dreaded multiple stableford where the two players points on each hole are multiplied together.
Of course, should one player not score, his partner's points do not count either — how embarrassing.
Mark Jenkins and Dylan Burls won the day with 74 points while Bec Jeffers and Glenn Newton were runners-up with 73.
Burls had 20 points on the front nine and 23 on the back while Jenkins played solidly for 37.
They both scored strongly on the last six holes, the critical multiple holes, and garnered 33 of their points there.
Shane Myers and Patrick Davies had 72 points, Dave Cornwall and Gary Hopcraft 65, Gerard Watson and Scott Perry 64, Jack Risstrom and Michael Suster 62, Larysa and Darryl Phillingham 62, Joe Kawalko and John Keller 61, Richard Lancaster and Colin Basham 61, Peter Caldow and Scott Carter 60 and Scott Lye and Michael Downs 60 on a count back.
Gary Hopcraft and Elaine Dunk won nearest-the-pin on the ninth hole while Dave and Bev Roberts won on the 14th.
Peter Hutton and Robyn Downs won nearest-the-Santa, John Bunn and Judy Baker were nearest-the-reindeer while Mike Jeffers and daughter Bec were judged best dressed using the volume meter.
The format is a great way to wind the year down and to give golfers the chance to enjoy a social day but still play serious golf.
Gary Hopcraft and his many helpers are to be congratulated on the format and on the running of the day.
Midweek
We managed just one mid-week men's event and that was on Tuesday when Barry Dennis had a sensational 44 stableford points to win by two from James Ibbotson who must be wondering what score he has to have for a win.
Sean Gledhill won nearest-the-pin and consolation balls went to Steve Haigh 39, Peter Hutton and Gledhill with 37 on count back.
— Foozle