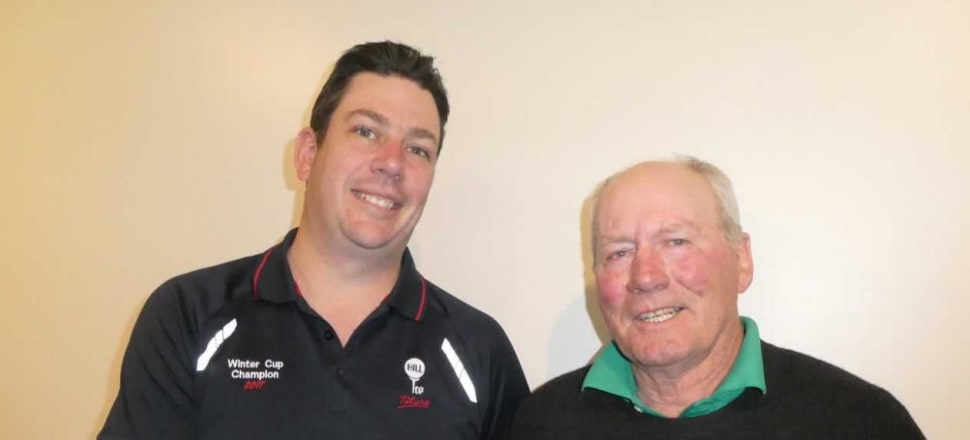 5370537724001
Drew Curtis was a clear winner of the par competition on Saturday when he came in with +5 off an eight handicap.
Although he had losses on the second and fourth holes, he still turned +2 and added a further three pluses on the back nine, which included birdies on the 13th and 14th holes.
Matt Miller was runner-up in A-grade with an excellent score of +3 off a two handicap.
On the back nine he had four birdies with a loss on the 15th his only blemish.
John Steen won B-grade with +3 off a 25 handicap and Rocco Barca was runner-up with +2.
Terry O'Brien won nearest-the-pin on the Lewis Homes third hole with a tee-shot that finished less than a metre behind the hole; Drew Curtis won on the sixth (Tatura Post Office); Sam German won the jackpot and nearest-the-pin on the ninth (Tatura Engineering); and Scott Lye won on the 14th (A-1 Freight).
Balls down-the-line went to Lou Villani and Clive Merrigan +1; Darren Carter square; Steve Haigh, John Dickinson, Allan McGrath and Colin Fountain -1; and Steve Zolich and Ian Elders -2 on a count back.
Lyn Flett won the women's competition with -2 on a count back from runner-up Debbie Reilly and ball-winners Heather Long and Josie De Ieso, while Mandy McGrath won nearest-the-pin on the ninth and Heather Long won on the 14th.
Order of merit
Steve Haigh has been a model of consistency since joining Hill Top and playing off a low handicap.
Once again he has won last OOM, his third win in the past four months.
He wins the voucher from Brady Bourke's Tatura Family Butcher with an average of 38 stableford points in each of his Saturday rounds in August.
Michael Downs was runner-up with 36 points and Paul Berg third with 34.25.
Chris Coleman won the women's OOM with an average of 34 points and Judy Baker was runner-up, also with 34.
Mid-week
Ross Kelly put a lot of disappointing rounds behind him to smash the field on Tuesday and win the stableford competition by six shots.
A birdie on the sixth and another on the 10th helped him to 44 points off a 27 handicap, while Clive Merrigan was runner-up with 38 points on a count back.
Graham Meneilly won nearest-the-pin and consolation balls went to Allan McGrath 38 and Frank Hill 37.
Lou Villani struck form on Thursday, winning the stroke event with a round of 95-26-69 and Clive Merrigan was once again runner-up with 70.
Steve Haigh won nearest-the-pin and line balls went to James Ibbotson 70 and Ron Popple 73 on a count back.
IGA chook-run
Jeff Huddle was the best of a small field on Thursday, winning with 37 nett for nine holes, while John McCallum was runner-up with 38 and Gary Hopcraft won a ball for his 39 on a count back.
Coming events
The Golf Victoria Senior Amateur Championships are being played this week at Hill Top and Shepparton and there are stableford events on Thursday and Saturday.
The Villani family hosts Sunday's two-person gentsomes, men or women but not mixed. There is a 10.30am assembly for an 11am shotgun start and bookings may be done online or at the clubhouse.
Suggested names for common golf shots
The O.J. Simpson — somehow you got away with it, against all odds and decency.
The Diego Maradona putt — a nasty little five-footer.
The Salman Rushdie — an impossible read.
The Adolf Hitler — two shots in the bunker.
The Princess Diana — you shouldn't have used the driver.
The Rex Hunt — you hook it and kiss it goodbye.
— Foozle